Today I baked an apple pie for my wonderful husband. He has been working very hard this week and for that I'm super thankful! He has been substitute teaching (yesterday, today and is scheduled again tomorrow). He had work last night at the dollar store, tonight he had tutoring and tomorrow he's being paid to set up lazer tag at a local university. Yup, haven't seen him much this week but wanted to reward him with the pie. So I did =D. Cause he's the best!
Shall we get started???
A few things you should know:
1. I love to bake
2. I'm by no means a perfect baker (I piece my crusts together, my pies are messy)
3. We have a very small apartment with NO counter space. Literally there are just 2" sections on either side of the sink. No joke, and the dish drain gets one and the other houses our water filtration system. So as a result, I just use our table as my counter. :) It's small but we love it anyway!
4. I'm super excited you stopped by today!
Ok, here we go.
One Yummy Apple Pie coming up!
Let them enjoy their bath while you get the crust ready!
I don't have a stand mixer so I just mix it all by spoon/hand.
See no need to be perfect with your pie crust. Guess what!!! Someone will eat it anyway!
I know, cider vinegar, in a pie??? That's what I thought too, but it works! Trust me!
Just use your hands for this part! It's ok to get dirty!
Take a step back, admire your work and then drool wait for your husband to get home so you can share it!
I hope that if you have never made a pie from scratch before this gives you the courage to do it! What are some of you favorite fall recipes?
- - - - - - - - - - - - - - - - - - - - - - - - - - - - - - - - - - - - - - - - - -
Today I am linking up with:
for the October Followers Fest.
Want to learn more? Want to jump in on it? Click the button below!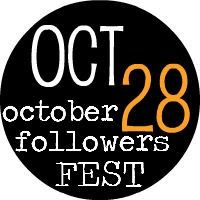 If you stopped by from the follower's fest, please say hello! I'd love to get to know you more!