When I saw that
Ilene
and
Sandy
were hosting a Cold Hands Warm Hearts swap, I had to participate. I love gloves! I'll let you in on a little secret. In high school gym class, I'd wear gloves because it was so cold. Yep, I was a nerd.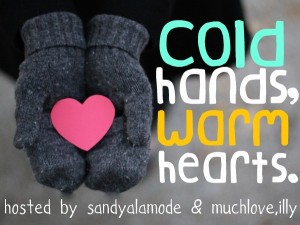 I was so excited to be paired up with the beautiful Katie, of
The Bright Life
. She's so awesome. I love reading her blog. She's inventive, creative, talented, and best of all, she's a believer! I've been super encouraged by reading her new advent series. You should totally check it out!
When I received my package I was so grateful! Katie just picked things that fit my personality so well. I wish that I would have taken better pictures, but have been lacking the motivation/ability to take a lot lately (with hubby working). These don't do justice for the beautiful gifts I've received.
Sweet, sweet Katie, sent me that beautiful little card, explaining all of the gifts that she had sent. (I wish I would have thought to do that). That little bundle of lace includes buttons that I can use to make more things for my shop. So excited to use them!
Oh, and the lace, that's the sweetest part to me. It's left over from Katie's wedding gown that her mom MADE for her. So precious!!!
She gave me those lovely brown gloves on the left (which I had to break out when the furnace was accidentally turned off in our apartment). I LOVE the gloves and booties for our little one. Katie also gave us those beautiful cards :).
And also included were these beautiful prints of Scripture verses. I absolutely love them. I just haven't had a chance to get frames for them yet, but I will!!! I think I may need to hang them in my "craft room."
If you like the prints that you see, be sure to check out more of Katie's design work in her
shop
!
Isn't Katie the best??? Thanks so much again Katie for being a great partner and thanks Sandy and Ilene for hosting!